The IoT platform to realize your dreams
Our IoT-gateway provides the ideal sensor to platform solution for your IoT-journey no matter your idea or size of project.

AKKR8 is easy to deploy. It uses the 5G-networks, meaning that the installation process is the easiest possible.

AKKR8 has a lot of built-in sensors to measure almost anything. If your dreams are even bigger, we can help you add the sensors you need or assist with a custom design.
We want to make your IoT-journey simple, safe and predictable.
AKKR8 THE INTELLIGENT SENSOR
AKKR8 is a wonderful platform for you to create your ideas. We have combined embedded sensors, a smart unit and the flexibility to add functions to proove your concept. So you can grow the ideas you nourish.
With AKKR8, we come prepared. We can help you with all the steps from starting your IoT-journey, testing your ideas, adopting new ideas, scale-up the idea and grow.
AKKR8 is an IoT-solution built for Edge to Edge IoT. Secure. Scalable. Predictable.
One of the Edges in almost any IoT-echo system is a sensor. AKKR8 represents what we call the Sensor-Edge. A smart sensor that can take action in the Edge of the system, to keep power consumption low and make important decisions faster. The AKKR8 sensor itself has a built in processor that can make powerful decisions fast and power efficient at the network edge. This improves performance and battery life time.
We believe that IoT must be secure, secure and secure. Therefore we have implemented quite strict security measures in our device. The "internet between things" needs a secure connection so you can transfer your data from and to the sensor in a safe way. AKKR8 has support for 5G technologies meaning the networks are powerful, secure and scalable.
The other Edge is the sensor data presented to your IoT platform. We call this Edge the Front-Edge.
The AKKR8-sensors sends device and sensor data to an IoT-platform of your choice. We have designed the device to work with standard IoT-protocols that almost any IoT-platform can handle.
If you want to go the extra mile and present data tailored to your brand and IoT ecosystem we offer customised front-edge experiences together with partners.
YOur IoT TOOLKIT
With AKKR8 we wanted to create a toolkit for the complete IoT-journey. Prototyping is fun, but it takes time and skills. And converting your prototype to a ready made product is also a hefty task. With AKKR8 we have a platform to meet your needs, wether it is prototyping or going to market. The perfect multi-tool for IoT.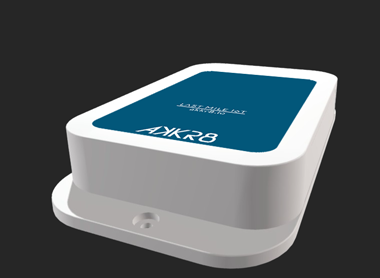 Let us help you!
We have seen far too many start with IoT and end the journey far too soon. Our AKKR8 platform is built on the foundation of our knowledge and experience from Industrial IoT.